Grammy Award winners YES, one of the most influential and ground-breaking progressive rock 'n' roll bands ever, are back with their first all original new album in 10 years.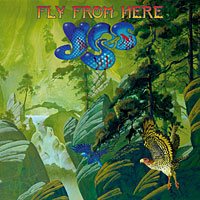 As a dominant force for more than four decades, YES has sold more than 33 million albums worldwide. Their symphonic use of sound and innovative musical style has made each of the group's players virtuosos in their own right.
"Fly From Here" encompasses YES' signature brand of mysticism and grand-scale compositions. Maintaining a complex, symphonic sound that features the beautiful harmonies and strong heavy riffs they are known for.
"Fly From Here" sees YES teaming up again with legendary, 2-time Grammy Award winning producer, Trevor Horn (Buggles, Tina Turner, Pet Shop Boys, Paul MCCartney, Simple Minds etc). Horn also collaborated with the songwriting and brought in the sessions his former Buggles and Yes partner Geoff Downes (of Asia) on keyboards, thus recreating the creative environment of the "Drama" album. The legendary designed Roger Dean painted once again the cover art.
YES' powerful compositions influenced a generation of musicians with a hugely successful and indelible catalogue of music with hit albums such as DRAMA, FRAGILE, CLOSE TO THE EDGE and 90125. Classics such as "Roundabout," a seminal hit which consistently appears on "the best songs of all-time" lists, and the group's #1 hit "Owner of a Lonely Heart," which Horn is responsible for. Taken from the YES album 90125, this single would form part of a unique double, which would see YES and Horn top both the UK and US charts simultaneously.
Tracklisting: (side A): Fly From Here – Overture; Fly From Here – pt I – We Can Fly; Fly From Here – pt II – Sad Night At The Airfield; Fly From Here – pt III – Madman At The Screens; Fly From Here – pt IV – Bumpy Ride; Fly From Here – pt V – We Can Fly; (Side B): The Man You Always Wanted Me To Be; Life On A Film Set; Hour Of Need; Solitaire; Into The Storm.
DVD: Includes 25 mins. Documentary "Making of" the album – "We Can Fly" videoclip.
YES:
Benoit David: vocals
Steve Howe: guitar
Chris Squire: bass
Alan White: drums
Geoff Downes: keyboards
Produced by Trevor Horn