Following the acclaimed "The Water Road" (2008), Anglo Swedish band, Thieves' Kitchen are set to release their brand new album, "One for Sorrow, Two for Joy" on 29 January 2013.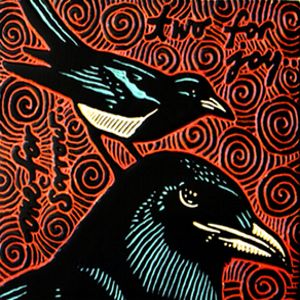 It's not easy to make music this complex sound so grounded, but on "One for Sorrow, Two for Joy" Thieves' Kitchen pull it off with aplomb and in the process, land their most accessible album yet.
The band, Amy Darby (vocals), Phil Mercy (Guitars), and Thomas Johnson (Keyboards, ex-Anglagard) blend elements of Canterbury, Folk, Fusion, Symphonic, and Rock to produce music as adventurous as it is familiar, as melodic as it is intricate, an 'Englishness' to its flavour, Swedish in its texture.
On "One for Sorrow, Two for Joy", the band are joined by Paul Mallyon (Drums – Sanguine Hum), Brad Waissman (Bass – Sanguine Hum), and Anna Holmgren (Flute – Anglagard) to provide a thrilling journey into a musical landscape rooted in a progressive heritage, but not limited by it. Fans of The Water Road will hear a continuity of their instantly recognisable sound, but from a band still moving forward, still exploring.
Recorded and mixed by Rob Aubrey at Aubitt studios (IQ, Big Big Train, Spock's Beard), "One for Sorrow, Two for Joy" is a crystalline document of a band surfing the extremes of dynamics across a mosaic of shifting themes to provide an organic and engaging listening experience.
"One for Sorrow, Two for Joy" pre-orders start on 10th January. Visit www.thieveskitchen.co.uk for details, and keep up to date with the lead up to the launch and more news from Thieves' Kitchen on Facebook and Twitter.