Limited edition 7″ vinyl single to be released on the 21st April for International Record Store Day.
UK label Esoteric Antenna announces the release of the hugely anticipated album by SQUACKETT, the collaborative project between two legends of Progressive Rock, Chris Squire and Steve Hackett.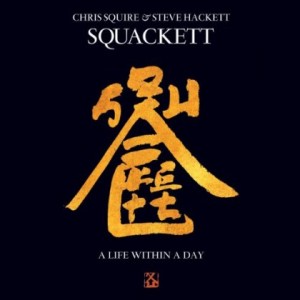 With progressive rock (in its many forms) now seemingly more popular than ever a collaboration from members of two the the godfathers of the genre is hugely exciting. Chris Squire has appeared on every YES album and is widely regarded as one of the most influential bass guitarists of all time. Now an established solo artist, Steve Hackett first came to prominence as the guitarist with Genesis. He was in the band from 1970 to 1977 and played on six studio albums and three live albums before leaving to concentrate on his solo career.
The two met when Chris Squire was working on a solo album and needed some guitar parts. Chris was put in touch with Steve and through these sessions the idea for SQUACKETT was born. Over four years in the making, the "Squackett" album is very much more than the sum of its parts. "It was very much about a bunch of pals swapping notes and anecdotes," says Hackett "I would say if people are looking for uncountable time signatures, in the main that's not what this album holds. I think the songs are more simple and direct." "It has a flavour to it that is reminiscent of a few things from different artists," says Squire. "There is some clever prog rock stuff in there, some jazzy bits but there are parts that have vocal harmonies like Crosby, Stills and Nash"
Album tracklisting is as follows
1. A Life Within a Day
2. Tall Ships
3. Divided Self
4. Aliens
5. Sea of Smiles
6. The Summer Backwards
7. Storm Chaser
8. Can't Stop the Rain
9. Perfect Love Song
The album will be released in the following formats – Standard CD – EANTCD 1002, Limited and Numbered Vinyl Edition – EANTLP 1002, Limited Edition 2 Disc Deluxe Edition (with hardback cover & 5.1 surround bonus disc) – EANTCD 2002.
On April 21st the band will release a limited edition 7″ vinyl single to tie in with International Record Store Day. The single will be "Sea of Smiles" (single edit) b/w "Perfect Love Song" and Cat number is EANTS 1001