The Polish progressive rock band After…. will release their album "No Attachments" on the 21st of November in Europe and on the 6th of December in the USA (via MVD).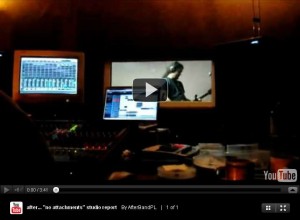 The band has recently placed on Youtube a short video recorded during the session in the studio. The video can be seen here.
After… was formed in 2002 in Wloclawek. In November 2005, they released their debut album "Endless Lunatic", featuring guest appearances by Colin Bass (Camel), Józef Skrzek (SBB) and Jacek Zasada (Quidam). To promote the album, the band played several concerts in Poland and Western Europe, sharing the stage, among others, with Fish, Quidam, Riverside, and Sylvan. In June 2008 their second studio album "Hideout" was released. The new album was very well received both in Poland and abroad. Their third studio album "No Attachments" marks the beginning of a new exciting era in the band's career. Not only it brings interesting arrangements and melodies but it is also being produced in cooperation with the musicians of acclaimed British act The Pineapple Thief.
The first promo track taken from "No Attachments" will be revealed on Metal Mind's profile on Soundcloud on Monday, 24th October.