June 11th sees another installment of the Red Jasper re-issue campaign by Angel Air Records: a special 2 CD set of 'A Midsummer Night's Dream' & 'The Winter's Tale', including bonus live tracks, recorded in The Netherlands 1993.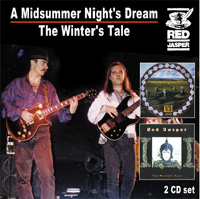 Over a two year period Re Jasper recorded the two albums coupled together for this release. "A Midsummer Night's Dream" was recorded in 1993 and "The Winter's Tale" in 1994 at Broadoak Studios in Hampshire, England. To promote the releases the band started to tour Europe including playing support to Fish. Their crowning European moment was headlining The Aurora Borealis Festival in Tilburg, Holland during 1994.
Progressive Rock was their forte and as one reviewer said of "Midsummer"-"as the listener get's more and more into Red Jasper's world the more there is to discover" another said of "Winter's Tale" "there is so much to hear that it takes a few listens to fully recognize the majesty of the music". Listen to the music of Red Jasper who have been described as "Motorhead meets Jethro Tull".