Wojtek Szadkowski returns this September with a DVD release of his project Strawberry Fields, simply entitled "Live Strawberry Fields".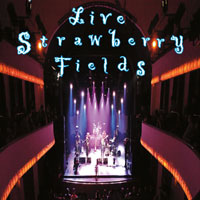 On the 20th of April 2011, at Silesian Theatre in Katowice, Poland, Strawberry Fields presented to their audience the band's very own, unique, subtly simple, magic and, at times, trip-hop-like brand of prog music, crowned with Robin's mesmerizing, sensual voice. Szadkowski and Robin were accompanied on stage by the former's fellow musicians from the band Satellite – Sarhan Kubeisi (guitars), Jarek Michalski (bass), Krzysztof Palczewski (keys) and the band's new guitarist Michał Kirmuć. Together they presented their fans with a musical feast by performing songs from Strawberry Fields' debut album "Rivers Gone Dry" as well as one previously unreleased song – "Problem" . Also, the band surprised the audience by playing new versions of two memorable songs from Satellite's repertoire – "Don't Walk Away in Silence" and "Is It Over" – as also a classic Collage song "Living in the Moonlight". DVD entitled "Live Strawberry Fields" perfectly captures the magic of that exceptional evening.
The release date of "Live Strawberry Fields" DVD is scheduled for September, 5th in Europe and September, 27th in USA (via MVD).
Tracklist:
1. Open Your Eyes
2. Close
3. Fool
4. Maybe
5. River's Gone Dry
6. Problem*
7. Beautiful
8. Flow
9. Your Story
10. Don't Walk Away in Silence (Satellite cover)
11. Living in the Moonlight (Collage cover)
12. Is It Over (Satellite cover)
* previously unreleased
Bonus video:
Interview with Wojtek Szadkowski
Interview with Robin
Also includes:
Biography
Photo gallery
Desktop images