Manchester's Oceansize have chosen 'SuperImposer' off their latest studio album "Self Preserved While The Bodies Float Up" (Superball Music /EMI) to be launched as a video, art directed by one of Brighton's finest studios Red Design who also did their current photo-session. Check out the clip right here or click on the screenshot below to see the video!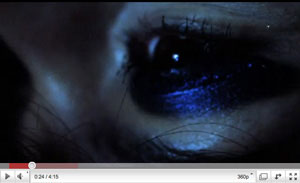 The directors, also shooting campaigns for PlayStation, about their work:   The song has a theme of building up and breaking down and this is reflected in an abstract way, moving away from a traditional narrative-driven story. Showing the beauty and abstractness of liquid and textures building and breaking down the video is a depiction of the time between dusk until dawn highlighted with a subtle colour scheme. Showing the beauty and grotesqueness of a human element also plays a vital roll in giving something for the viewer to grasp onto. 
The video initially starts of slow, with the textures being simple. As the video progresses it builds and becomes more frantic and complicated like a normal everyday.
One of the UK's true innovators, Oceansize have carved a unique place for themselves in the music scene. Previous albums "Effloresce", "Everyone Into Position" and "Frames", recent DVD ""Feed To Feed" and a series of EP's have been hugely critically acclaimed. This acclaim, in part recognition that Oceansize look to do things differently to the mainstream.   "Self Preserved While The Bodies Float Up" is yet another progression in Oceansize's stunning catalogue. From the out of kilter timings of 'SuperImposer' to gentle layers of 'Build Us A Rocket Then…' from the lush melodies of 'Silent / Transparent' to the brutal riffing of 'Part Cardiac', Oceansize are a band who remain unique – defying conventions to produce engaging and beguiling rock music. Driving rhythms overlaid with beautifully crafted multi-instrumentalism and the unique voice of Mike Vennart. The album was produced by Oceansize in their very own Ornamental Studios in Manchester, mixed by Chris Sheldon (Biffy Clyro, Foo Fighters, The Pixies, Therapy?) and mastered at the legendary Abbey Road Studios.  
——
Selected media-praise for "Self Preserved While The Bodies Float Up":   "…the only appropriate environment to listen to this album is standing on a mountain, arms gloriously aloft" NME (8/10)
"Bold and beautiful…" KERRANG (kkkk)
"Surely one of the finest records of 2010" Rocksound UK (9/10)
"This really is Oceansize  at their most sumptuous, essential best." BBC  
——
Oceansize online: http://www.myspace.com/oceansizeuk http://www.oceansize.co.uk http://www.facebook.com/oceansizeuk
Superball Music online: http://www.superballmusic.com http://www.youtube.com/superballmusictv http://www.facebook.com/superballmusic http://twitter.com/superball_music