CHARLESTOWN ALBUM LAUNCH – The Peel, London on 23rd October 2010
We are happy to announce that the Official CHARLESTOWN launch gig is to be held on 23rd October 2010 at the Peel, Kingston-upon-Thames, London.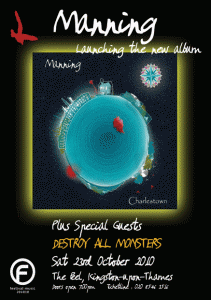 Our special guests will be Dec Burke's Destroy All Monsters
The album will on pre-sale and we will be debutting some new material from it, but you can now PRE-ORDER it from this site and there is an edited snippet from the title track now on the site for you to hear HERE!
We hope you can come and see us and pick up a pre-release copy!
Evening dress is optional OR you can come dressed as a sailor from the late 1700s to fit in with the album theme.
Doors open 7:30pm
The Peel, Kingston-upon-Thames, London (Tel: 0208 8546 3516)