"Raised in Captivity" is the latest gem in an ongoing list of musical works that will certainly stand tall amongst the amazing musical works John Wetton produced during the years.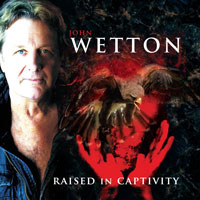 John Wetton's sixth solo album is shaping up to be a true career landmark for the British singer/songwriter. In January 2011, with a brief break in between touring commitments for the 30th Anniversary of U.K. and a US Asia tour, he headed over to California to write and record with former Yes, World Trade and Yoso producer and multi-instrumentist Billy Sherwood.
After intense studio recording work, Wetton emerged with a strong bunch of new songs which he describes as "'an Anglo-American music document, a true autobiographical journey". Indeed "Raised in Captivity" is a record that truly sums up several of the musical elements that have shaped Wetton's career.
Firstly a lot of his former (and current) musical partners are appearing on this new album: Robert Fripp (King Crimson), Eddie Jobson (UK), Mick Box (Uriah Heep), Steve Hackett (Genesis), Steve Morse (Deep Purple) and of course Geoff Downes of Asia.
Musically, the record intends to offer a more rocking aspect of Wetton's songwriting and performing abilities, akin to his now classic album "Battlelines", though not forgetting his abilities to perform on majestic harmonies over symphonic musical tapestries – particularly poignant is his duet with Dutch singer Anneke van Giersbergen on "Mighty Rivers" the closing song of the album.
John Wetton RAISED IN CAPTIVITY track listing:
1. Lost For Words (featuring Steve Morse)
2. Raised In Captivity (featuring Robert Fripp)
3. Goodbye Elsinore (featuring Steve Hackett)
4. The Last Night Of My Life (featuring Alex Machacek)
5. We Stay Together (bonus track)
6. The Human Condition (featuring Tony Kaye)
7. Steffi's Ring (featuring Geoff Downes)
8. The Devil And The Opera House (featuring Eddie Jobson)
9. New Star Rising (featuring Mick Box)
10. Don't Misunderstand Me (featuring Tony Kaye)
11. Mighty Rivers (featuring Anneke Van Giersbergen)
John Wetton: vocals, bass guitar, acoustic guitar, keyboards
Billy Sherwood: all instruments, except as noted above and in the tracklisting
Produced and Mixed by Billy Sherwood