Paul Menel, the former lead singer of iQ, Britain's most respected progressive rock band of the last 20 years, is launching his solo career with a four date European mini tour visiting Belgium, The Netherlands and Germany to promote his new and as yet unsigned solo album 'Three Sides To Every Story'.
Hot on the heels of a triumphant return to the stage at London's foremost progressive rock venue, The Peel (Saturday 29th January),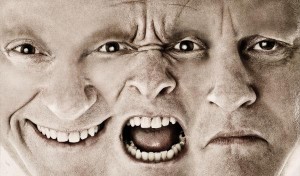 former iQ vocalist Paul Menel will be touring mainland Europe from February 10-13th.
 He has put together an incredible band to tour some of his classic songs from iQ days together with a smattering of new songs.  The band comprises John Jowitt (bass – Frost*, iQ and arK), Steve Harris (guitar – arK), and introduces Ian Diment (keys – Paul's songwriting partner), Bill Devey (drums) and Mat Taylor (sax & flute).
 Says Paul "Given my heritage with iQ, we'll be playing a set which will be 75% from my time with them, from 'Nomzamo' and 'Are You Sitting Comfortably' and also introducing some of the new tracks I've written with Ian.  This is the most fun I've ever had in a band.  I could tell you a few things about some of the other musicians I've played with…….  But that's another story!"
Fans can help spread the word and sign up to receive a free download from the forthcoming album – 'This One's For You'.  Paul intends to send the track as a St Valentine's Day message to Messrs Blair & Bush, and by signing up now, you will instantly receive a screensaver, electronic 'banner' for your Facebook page and a PDF of the Tour Poster to share with your family & friends.  Then on February 14th, you will receive a personal email from Paul Menel with a link to download the track.
For more details visit www.paulmenel.com
 Current dates are:
Feb 10 – Paul Menel Band Das Rind, Ruesselsheim, Germany
Feb 11 – Paul Menel Band B-hof, Wuerzburg, Germany
Feb 12 – Paul Menel Band Boerderij, Zoetermeer, Netherlands
Feb 13 – Paul Menel Band Spirit of 66, Verviers, Belgium
Make sure you don't miss the next part of the story…