"Without Saving" is the long awaited third studio album of the Hungarian melodic rock/metal band, Everwood.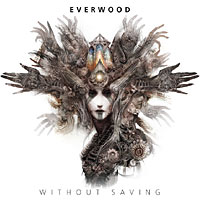 It holds many surprises, even compared to the previous records. Although not intentionally a concept album, it is a twelve-song trip into the depths of the human soul; a journey from an inevitable end, through the void and into the rebirth of letting go. It is a herald of the future of the band with a musical world of a modern, refined weave in music, with an unmistakable streak of originality. Breaking through the confines of heavy metal and progressive rock, the new album is most likely deliver a style of play that is yet unperceived, vigorous, and intensified with the eclectic elements that are present in contemporary rock.
The band had this to say: "We are really looking forward to work with Shawn and ProgRock Records. It's a great opportunity for us, to once again show the world what the music of Everwood is all about."
"When a band from Hungary writes you and says they are a melodic progmetal band, well, you just gotta check it out, which I did, and crickey, this music is just amazing, I hope you love it as much as I do.", said Shawn Gordon, President of ProgRock Records.
"Without Saving" is the first release from Everwood and is available for immediate ordering at a $2 discount till mid-July 2011 and will be shipped in late July, audio samples, information and ordering can be found here.