ASIA will release their new studio album "XXX" (pronounced Triple X) via Frontiers Records, on June 29.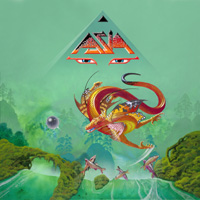 Thirty years after its eponymous debut album, ASIA ascended to the top of the Billboard Top 100 chart (where the album remained No.1 for 9 consecutive weeks). The legendary British classic rock band returns with a new studio album, a 30th Anniversary edition of their debut album, 2 DVDs, and a world tour that includes UK, Europe, Japan and America.
The new album, produced by Mike Paxman, has been hailed as ASIA's best album since its classic early 80s releases. The album will be released on CD, collector's edition CD/DVD (featuring new music videos and behind the scenes footage), and on a limited edition vinyl.
The first single taken from the highly anticipated new album is entitled "Face On The Bridge", released digitally worldwide on Monday May 14th.
In addition ASIA has also completed "Resonance", a DVD concert film of the group's 2010/2011 Omega World Tour, captured live in Switzerland which will be released subsequently.
To celebrate their 30th Anniversary, ASIA will release a collector's edition box set based on their legendary 1982 eponymous debut album, supported by a myriad of ASIA releases in 2012.
The 30th anniversary edition of their debut album will feature 2 audio CDs (a re-mastered edition of the debut album, plus a CD of live rare tracks), an expansive historical booklet, a limited edition ASIA T-shirt, goodies from ASIA's 1982 tour, plus a DVD of the new band documentary: ASIA – 30 Years On. A newly commissioned painting by Roger Dean updates the symbolic dragon and pearl from 1982 to 2012, the Year of The Water Dragon (in the Chinese calendar).
You can watch a video of the track 'Face On The Bridge' here.